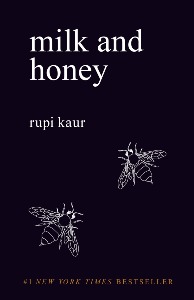 "There is no bigger illusion in the world than the idea that a woman will bring dishonor into a home if she tries to keep her heart and her body safe," Rupi Kaur writes in Milk and Honey . Kaur's raw work of art is an all-time favorite book, articulating the experiences of abusive relationships, violence, love, and loss. For me, this collection of poetry paints an insightful portrait to female empowerment.
The first chapter of the book, "The Hurting," is an elixir of poems put together to illustrate the author's understanding of how her life changes from a young age to adulthood. Kaur's ideas and relations to the world change as she uses her past to reflect on the real world. I found this section, in particular, to be a perceptive outlook on her life. "Every time you tell your daughter you yell at her out of love, you teach her to confuse anger with kindness," Kaur writes in this chapter.
The second chapter, "The Loving" introduces one of Kaur's early relationships. She displays love and a hint of lust through her poems. However, the tinging feelings of romance fades as the poems playout and the reader senses a loss of trust. The relationship becomes toxic as the lovers fight, make-up, fight, and make-up in a continuous loop of dysfunction.
As the book progresses through the next two chapters, Kaur endures struggles while facing an ominous obstacle: learning how to love. To me, it seemed as though her inner demons consume her psyche, and while her relationship spirals into oblivion, she loses herself working to keep it alive. It is through the pain and agony of trying to find true happiness that she discovers a more positive outlook of her life in the last chapter. She truly emphasizes the importance of female's resilience.
Rupi Kaur painted a striking canvas of her life in Milk and Honey . I recommend this book to young adults because it is an example feminism and embraces a broader conception of a young female's life. As a #1 New York Times bestseller, this is one of the many poetry books that she has written. I look forward to reading more of her work.