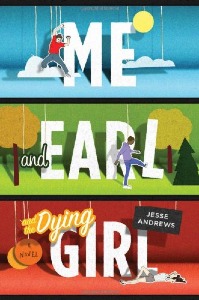 Greg Gaines thinks he knows it all. He has officially figured out how to survive high school. He decides that all he has to do is remain unanimously unimportant to everyone at his school except Earl, his sort-of-friend. He thinks this is what he must do to answer the basic existential question: How is it possible to exist in a place that sucks so bad?
Greg's plan only works for about eight hours until he is forced to befriend his ex-girlfriend, Rachel, who has just been diagnosed with leukemia. Rachel grew up with unreliable, and divorced, parents. Due to this and her newly diagnosed cancer, she has unwillingly become the town's charity case. Greg's mother, who is aware of the situation, forces him to be her friend. Throughout the book, he is trying to avoid getting attached to the "dying girl."
It is easy to sympathize with Greg Gaines. He explains that he had trouble making friends when he was a child. He never really fit in anywhere. This causes him to shut off emotionally. In order to avoid getting hurt, he has no true interest in becoming popular or having in-depth relationships with anyone. He uses sarcasm and humor to fill this emotional void and gets upset when these strategies fail to work. This, plus his experience with Rachel, makes him a very vulnerable character. The relationship between Greg and Rachel that develops throughout the story is very relatable and draws you in.
I recommend this book to teenage or young adult audiences because it takes place in a high school environment, making it more relatable. The book also talks about a lot of topics that many teenagers or young adults experience. I thought Me And Earl And The Dying Girl was very good because of the format, topics, and genre. I have always leaned towards realistic fiction. I enjoyed this novel and am looking forward to reading more work from Jesse Andrews.