Book Review: The Book of Three
by Theodore B. Morrison, age 13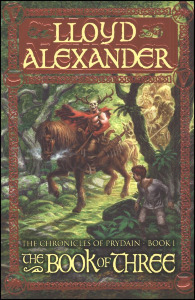 The Book of Three is a novel written by Lloyd Alexander. The story is set in a fantasy world where a union of kingdoms has been established to defend against Arawn, the lord of death. The book tells the tale of an Assistant-Pig Keeper named Taran and his introduction to the world of heroics. Now without delay, let's delve into this tale of heroes.
The book starts by introducing the reader to Taran, a young boy who is eager to enter a life of a hero instead of his current job as a helping hand on the farm. After getting promoted to Assistant-Pig Keeper to Hen-Wen, the only oracular pig in Prydain, he attempts to stop the pig from escaping as the animals get startled by an attempted assault on the farm by a caravan of the forces of death, championed by a mysterious man labeled the Horned King. When Hen-Wen escapes, Taran chases her into the forest, far from the boundaries of the farm. Then, after some time, he loses her and then meets a man he has admired from the union of kingdoms, called the Sons of Don.
The book follows the quest of Taran to warn the Sons of Don of the Horned King and smoothly introduces the main supporting characters of the book and the proceeding books. They face relentless challenges that constantly test the characters and their strength and willpower. They work to accomplish the quest as a team. The book perfectly introduces the reader to the protagonist and his supporting characters, who complement Taran in a way that makes the story a lot more dynamic.
The plot flawlessly introduces us to the main antagonist of the story without actually featuring him in the book, which is quite impressive. Using the Horned King was a good decision on the part of the author, as it allows the antagonist to have more power without dooming or crushing the protagonist every time they move forward on their quest. The plot completely fits along with the following books and the plot will intrigue any reader who enjoys fantasy.
The Book of Three has one of the best introductions, plots, and character development of any fantasy book I've read. The novel is a great read for anyone who is fond of fantasy and enjoys a young hero that valiantly fights for the powers of good. In consideration of my review of this book, I give it a 10 out of 10. The Book of Three is one of my all-time favorites, and will probably stay that way due to the great writing.