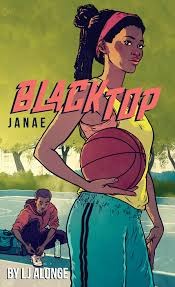 "Janae works every day at her Granny's Strange Goods Superstore, selling lucky rabbits' feet and other useless junk. And every night, after closing up shop, she dominates the courts with her boys," summarized a reviewer from Kirkus Reviews of Black Top: Janae.
Black Top: Janae is the second of a five book series, each focused on a different character. Janae, the book's protagonist, aspires to be a talented basketball player while struggling to overcome personal obstacles.
As an African American teenager with two older sisters and a strict grandmother, Janae spends her leisure time playing basketball at the park with her friends. Her grandmother, however, does not support Janae's aspirations to become a basketball player because she perceives basketball as a male sport. As a reader, I found her grandmother misogynistic as she discourages females from taking on historically male-dominated roles.
Janae's luck changes drastically after receiving an offer to participate in the Bay Area Baller tryouts where young athletes can earn a scholarship to college. She questions whether she should take the offer and ultimately decides to accept it. This is an important moment for Janae's character development because she is cocky at times and a good coach could help her find some humility. Janae faces many challenges throughout the rest of the book including an unexpected turn of events at tryouts.
Black Top: Janae is an intriguing book that exposes the struggles of becoming an athlete and following one's dreams. The book is a real page-turner because I never knew what to expect. L.J. Alonge is an amazing up-and-coming author, and I am excited to read all the books in the series.