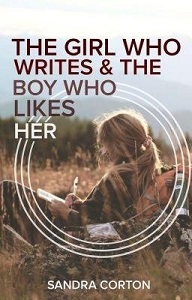 In the book The Girl Who Writes and the Boy Who Likes Her by Sandra Corton, a boy must find a way to get a shy girl out of her shell.
Emily has been traumatized by her father's death. Even after many years, she still considers his death her fault and therefore thinks that she doesn't deserve any kindness or love. To escape her sad world, she turns to writing which helps her relax. Emily's life changes forever, however when her mom's childhood friend goes on vacation and leaves her son Zach at Emily's house for a week.
When Zach first sees Emily, he takes an immediate interest in her—a girl with a curtain of blonde hair and moss green eyes. His seemingly boring week suddenly gets interesting.
With Emily's anxiety attacks and solitary mindset, she finds this strange boy a nuisance. She practically hyperventilates when she talks to anyone but her mom and step-dad. What will she do when Zach continues to try and break down her walls with his incessant kindness?
Even after Zach leaves, he persistently tries to help Emily without success. Two years later, however, Emily begins attending his school. Zach is determined to get to know this mysterious girl better. He is desperate to find out what she is always writing in her journals. Although carrying out his plan to find answers may cost him her trust, he could also gain some valuable information. Is his decision a good one? Does it pay off? You'll have to read the book to find out.
The Girl Who Writes was a page-turner. I couldn't put it down! The author always wrote the exact opposite of what the typical reader might think would happen. With a shocking confession, betrayal, lies and love, I think any middle school student would enjoy this book that certainly teaches readers that even if they fall, they can always get up.