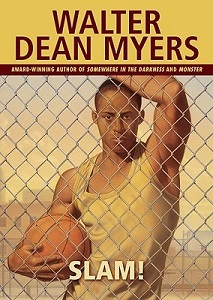 Slam! , a realistic work of fiction by Walter Dean Myers, is set in present-day Harlem. Told from the perspective of a Harlem high school student, the tale details the experiences of "Slam" a teenager who loves basketball and has a close friend named Ice.
Slam and Ice attend the same school until Slam transfers. At his new school, slam joins the basketball team. He decides to record his life on a rented camera and make it into a biography. As his biography shows, Slam is one of the best players on his team and tries to change their losing streak. But when his grades start to slip, the coach threatens to bench him.
Slam's life quickly becomes a mess. His grades keep dipping, and his grandmother is in the hospital with cancer. Slam works to balance school and sports, but a shocking discovery about his friend threatens to tear his world apart. People say that Ice is getting money out of nowhere and suspect that he is dealing drugs. Is Ice really dealing drugs? And if he is, will he and Slam stay friends? Can Slam bring his team to victory? Read the book to find out.
I liked Slam! because the book displayed a faith in reality and present day Harlem. I recommend this to people who love basketball, antics and good stories about growing up.