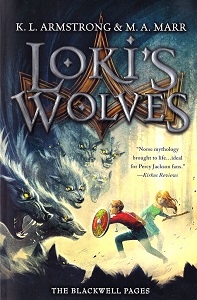 Loki's Wolves , by Kelley Armstrong and Melissa Marr, is the first in a five book series based on a Norse myth called "Ragnaroc." In the myth, the Norse gods battle to stop the end of the world. But in this retelling of the story, the gods have already died off because of their foolishness, so it's up to their teenage descendants to save the world.
The main character is a boy named Matt Thorsen, descendant of Thor, the Norse god of war and thunder. But Matt is very different from Thor. Unlike the rest of the Thorsen family, Matt doesn't outshine all of his peers. He's an average student whose physical prowess doesn't earn him any medals.
Despite his limitations, Matt embarks on a journey to find the other descendants of the Norse gods so that they can save the world from Ragnaroc together. As if this wasn't challenging enough, one of the people Matt loves and trusts is in league with the enemy.
As a reader, I enjoyed Matt's growth as a character. Faced with obstacles, Matt becomes more heroic and starts to break out of his shell. I loved this book – it sky-rocketed to the very top of my favorite books list as soon as I read it. I recommend Loki's Wolves to any middle school student who enjoys a book with action, humor, suspense, and adventure.