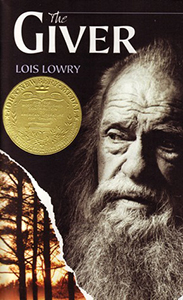 The Giver is a celebrated book by Lois Lowery. It melds dystopian fiction with action and drama to make a great combination. In fact, The Giver paved the way for the entire genre with help from Ray Bradbury's Fahrenheit 451 ; together, these texts started a movement for this once unrecognized and even unpopular part of science fiction writing.
The Giver tells the story of a post-apocalyptic, gated community, where a boy named Jonas is thrust into a job he had not even known existed. The community's governing body decided that he would become the next "Receiver of Memories," thus meaning he would receive all the memories of the world's past so that no one else had to suffer the pain of knowing humanity's dark history. As Jonas learns of the past, he finds his world more and more disfigured and broken with too many shades of gray.
In this community, civilians are not aware that they don't know the true story of the past; out of fear, the government had taken their freedom away. In their world, everyone is assigned everything from their jobs to their parents and siblings. When Jonas learns his society is killing people through a pretense of "release to elsewhere," he chooses to take action and protect the one person he comes to care for: a little baby named Gabe.
There are a great number of lessons to learn from The Giver . One is that losing diversity and choice is too big a sacrifice to eliminate the potential for humans to make wrong decisions. Without individuality, mankind would lose what makes it human. Second, love is important. In The Giver, the government takes away the emotion of love. The absence of love is tantamount to the absence of humanity; without love, we are not humans—we are merely robots.
Like any novel, The Giver has its ups and downs. There were parts where one absolutely could not set the book down and just had to keep reading. Other parts seemed to leave things to the imagination. But overall, this book is a classic and many people really enjoy reading it. I would recommend this book to lovers of like-structured dystopian novels like Divergent or The Hunger Games . This book is best-suited for teenagers and pre-teenagers.