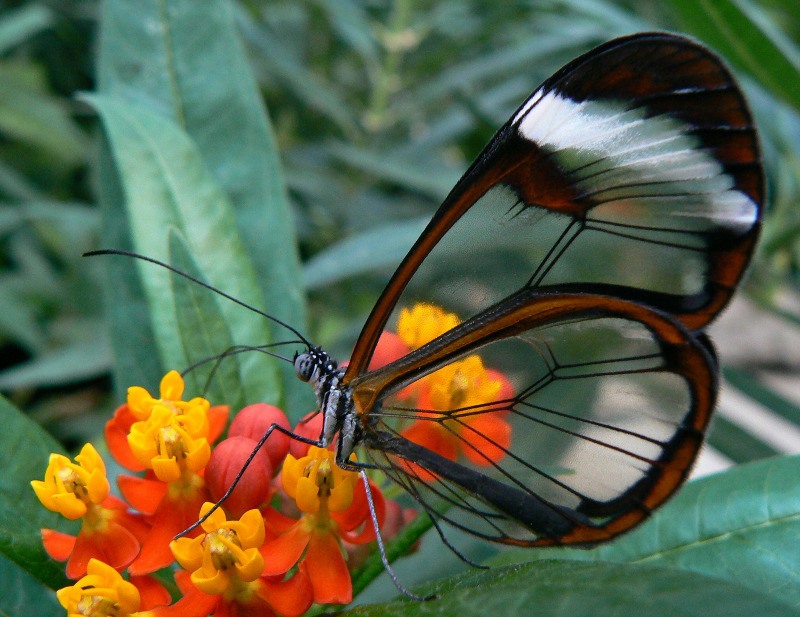 Discover the Elegant Beauty of the Glasswing Butterfly
by Ayelen Flores Ruiz, age 11
Did you know there is a butterfly with see-through wings? If you haven't heard about it yet, then you are about to learn of the glasswing butterfly.
The glasswing butterfly is quite unique compared to other butterfly species. Typical butterflies have wings that are full of vibrant colors and patterns such as blue, orange, and yellow. However, the glasswing only has color on the tip of its wings.
The glasswing butterfly can be found in Latin American countries such as Mexico, Panama, and Colombia. Glasswing butterflies like to fly around rainforests. Fortunately, this species is able to fly in the rain. Their wings consist of scales that keep them from sticking together when they're wet, giving the glasswing butterflies this special ability.
Glasswing butterflies have the ability to hide in plain sight due to their mostly transparent wings. This gives them the "ultimate camouflage" which helps them hide from predators like birds. The scales on a glasswing butterfly's wings are transparent and can naturally limit its light reflection. The wings seem to be made out of a glass-like material, giving the butterfly species its name. However, if the wax layer of the scales is removed it can reflect more light, becoming less transparent.
The glasswing butterflies are unique and beautiful insects because their appearance is different from others. The butterflies' characteristics help them stay protected from danger.
[Source: ScienceNewsForStudents ]