The Dromedary Camel Survives Sweltering Temperatures
by Esmeralda Ramirez, age 12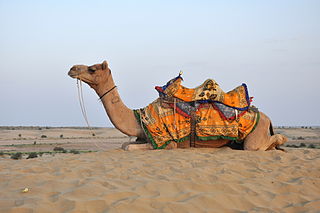 Dromedary camels are native to North Africa and the Arabian Peninsula. These camels can survive in temperatures other animals would die from. They are often referred to as "ships of the desert" because of their ability to conserve energy and survive for long periods without drinking water.
In order to survive the harsh and dry climate of the desert, camels have a three-chambered stomach. This allows them to partly digest plant matter and regurgitate food to secure as many nutrients as possible. Camels convert food into body fat and store it in the hump. This helps them survive months without food or water.
The dromedary camel feeds mainly on grass. But since grass is so hard to find in the desert, the camel is forced to eat any vegetation it finds. They can eat rough desert plants that other animals aren't able to digest. Camels also have efficient kidneys. This helps them process salty water, also known as brackish. Many times this is the only available water in the desert.
Dromedaries' bodies are equipped to handle the desert's harsh environment. To help them, these camels have nostrils that can open and close to keep out sand. Their broad feet help them better grip loose sand. To intimidate enemies camels use their soft palate (the roof of the mouth). The camel inflates the 14-inch-long palate and lets it hang out of its mouth.
Camels are unlike any other animal. They have the special ability to survive in the hot desert. When necessary they can go a long time without eating or drinking. Camels also provide milk, meat and wool, which are very helpful to their owners. Domesticated thousands of years ago, they are also good at riding.
[Source: Wildlife Explorer ]