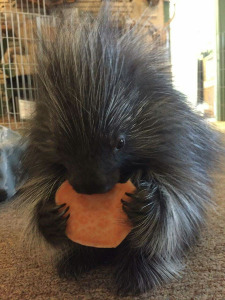 Roaming around the boarder of the Kalahari Desert in the South of Africa lives the Cape Porcupine. In underground burrows, unless scavenging for food, it enjoys relief of the scorching hot sun and the protection of predators.
This Porcupine is a rodent, so its two front teeth are constantly growing. In order to keep its front teeth a reasonable size, it feeds on roots, bark, herbs and fruit. In order to find these foods, it uses its keen sense of smell. This porcupine needs water like any other living thing, so it gets it from a succulent plant.
A mother porcupine usually has one or two babies. Newborns are usually 12 ounces and are very energetic. Their quills are still soft and not fully developed. They stay in the burrow under their parents' protection. The parents groom the young porcupines by licking them and escort them to feeding in a single-file line. The young stay suckling to six to eight weeks before they are able to find their own food. They are able to eat hard solid food at two or three weeks after birth.
Above the depths of the cozy burrows, predators lurk. During the dry season, loins roam around more frequently. When their usual prey, the Gemsbob, Kudu and Giraffe, go to look for water, the porcupine becomes more of a target. If the Porcupine is targeted, they fan out their quills as an alarm. If still threatened, it rattles its quills and stomp their feet as a waning. But if attacker still does not budge the porcupine stops and turns its rump upward facing the enemy. Finally, if the predator attacks, the porcupine charges backwards ramming its quills deep into the attacker's skin.
So, all in all, this Cape Porcupine is unique and full of wonder. They are smart extraordinary and wears its cape of quills with pride. It has the longest quills of any other porcupine, and is one of the cleverest.
[Source: Wildlife Explorer ]