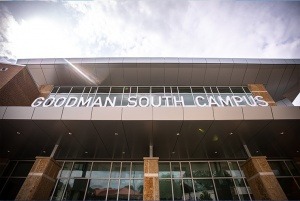 After many months of construction, Madison College's Goodman South Campus has opened for business and it is doing much better than anyone had hoped. Located in the heart of southern Madison, it seems that the future impact of the new building will far exceed the expectations of many who are involved.
The first faculty meeting of the South Campus took place on Friday, September 13, to look at how the first couple weeks of school have been. The dean of the new campus, Valentina Ahedo, shared that the meeting lasted for hours as the staff marveled at the journey ahead of them. She claimed that some staff members were surprised at just the beauty and "welcoming warmth" of the building alone.
One of the main factors of the welcoming feeling of the new building is thought to be the welcome center. "We were very intentional that when you came into the building, you had to come by the desk," said Ahedo. They feared that the larger size of the building, compared to the size of the previous campus, would cause a lack of communication and intimacy between staff and students. With requiring not only students but staff, as well, to pass the welcome desk upon entering the building, it is ensured that these relationships can be built.
Another positive change to the new campus is its location on the street. Unlike the Truax Campus, the Goodman Campus is not located in the middle of endless parking lots, which can become dangerous in the colder months.
Staff and students can enter the building just on the sidewalk. "...people are crossing the street right in front of our front door. We're in the neighborhood. We're right there. And to me, that is such an awesome experience because people truly can walk in just to see the building and just to see what we offer," said Ahedo.
The college has chosen to reach out to groups such as Badger Rock Community Center, Centro Hispano, and Urban League of Greater Madison to ensure that students of all economic statuses and all levels of educational experiences have a chance to experience the benefits of the new campus. In addition to this, the South Campus takes part in the STEM Academy, bringing in junior and senior high school students to the already lively building.
The most accurate enrollment number for this school year will not be known until later
this fall; however, so far there are 1,849 students enrolled. This is 300 students over the
1,500 student target the school set. This news brings joy to Ahedo and others who are
invested in the outcome of the new campus. According to Ahedo, the thought of how many
lives are being changed in the new campus brings to life the hope that the new Goodman
South Campus will have a massive impact on southern Madison.
[Source: Madison365 ]