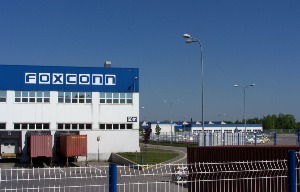 Foxconn recently updated their plans to build a factory in Mount Pleasant to manufacture liquid crystal display panels. Their plan has created controversy among Wisconsinites who are already concerned about air quality and anticipate even more environmental degradation resulting from the factory.
In a discussion in February, Foxconn announced a revisal of their plan. After deciding to cancel the Wisconsin campus, a few days later, the company released a reversal of its decision and now plans to go on with building a smaller campus, this one costing $10 billion. The change in plans occurred after Foxconn CEO Terry Gou had a meeting with President Donald Trump.
Initial plans for the building of the Foxconn factory were made during former Governor Scott Walker's time in office. Walker had originally issued permits for construction as well as a tax-payer subsidized package of $3 billion. The company also received permits from the Department of Natural Resources (DNR). These gave Foxconn permission to draw water from Lake Michigan for use in the factory, in addition to air quality permits. However, the potential campus would be one of the biggest causes of smog-related pollution in the area, which already suffers from summer smog.
Governor Tony Evers had doubts concerning the issue of pollution. While scientists had reported that the air-quality permits were issued correctly, he also was informed of an unspecified flaw in the permit-approval process. Due to his lack of confidence in the permits, Governor Evers decided to have the air quality permits reviewed by state environmental officials at the DNR. Along with questioning Foxconn's permits, Evers also considered capping the state tax credit for manufacturers. These decisions were much to the discontent of Republican legislators, who claimed, "the company is reacting to the wave of economic uncertainty that the new governor has brought with his administration."
With the completion of the review, the DNR suggested the air quality permits were appropriate, meaning they will stay in place. However, Foxconn's plans continue to be partially unclear.
"Moving forward, we expect additional permits will be required as Foxconn finalizes its plans, and those permits will be issued in accordance with the highest possible environmental protections," said Evers spokeswoman Melissa Baldauff.
Foxconn's plans remain in discussion, and their future permits will go through further investigation. While the factory continues to be a controversial topic, Evers, the DNR, and Foxconn will work towards a consensus.
[Sources: Madison.com ; Wisconsin Public Radio ]