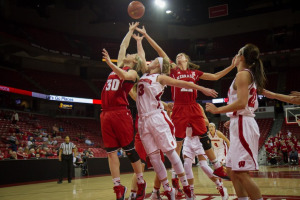 Ticket sales were booming this year for the University of Wisconsin-Madison Women's basketball. They averaged an all-time high of 1,642 tickets scanned during their 15 regular-season games, which is a 6 percent increase from last year's 2018-19 season.
Within the past couple of years, there has been a slight climb in ticket sales, but the Badgers have struggled to attract crowds over 2,000 since the 2009-10 NCAA tournament, commonly known as March Madness. They finished the tournament with a record of 21-11 and finished the following nine seasons below .500 (meaning they lost half of their games). As a result of these difficult seasons, the ticket scans dropped significantly. In 2016-17, it averaged only 1,278, which was a reduction of over half the crowd in seven seasons.
Then, in the 2018-19 season, the Badgers went 12-19 and finished 12th in the Big Ten, drawing a crowd of 1,987. This year, however, the Badgers placed 25th in the NCAA tournament and placed ninth in the Big Ten competition, with an astonishing crowd size of 3,886.
The 2019-20 season stood out for ticket sales because a larger number of tickets that were distributed were really used, rather than the distributed number of tickets differing greatly from the attendance in previous seasons. Yet even during the 2019-20 season, the average crowd of 1,642 made up only 56 percent of the ticket holders.
These numbers show that there is a growing number of people attending the Women's Basketball games. Although these attendance rates do not currently match the tickets that were distributed, the data shows that the crowd is growing, which will hopefully lead to those two numbers becoming more closely correlated.
[Source: Wisconsin State Journal ]