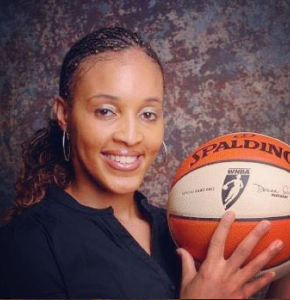 Former Wisconsin Badger basketball star and WNBA player Tamara Moore is the new head coach of the men's basketball team at Mesabi Range College in Minnesota. Mesabi Range is a small community college in Virginia, Minnesota, located about 70 miles northwest of Duluth.
Moore announced her acceptance of the job through social media platforms and expressed excitement about her new position. She also acknowledged that being one of the few women to run a men's college basketball program makes her a pioneer and gives her a chance to pave a way forward for other women in the profession.
The first female head coach of a college men's basketball program was Keri-Ann McTiernan, who coached men's basketball in the early 2000s, at Kingsborough College, in New York City.
In an interview with the Wisconsin State Journal , Moore told reporter Jon Masson she's been told she is "the first African-American female to coach a men's team in college basketball."
Moore started her playing career as a high school All-American playing in her hometown of Minneapolis. Moore led her team to a state championship and was named Miss Basketball in Minnesota after the 1998 season.
Her career took off while playing four very successful seasons as a Wisconsin Badger. During her senior year, Moore averaged 16.6 points and 6.1 assists per game while also collecting 5.1 rebounds per contest. Moore is the all-time leader in both assists and steals in the history of the University of Wisconsin women's basketball program.
After her time at Wisconsin, from 1998-2002, Moore went on to pursue a WNBA career where she played for seven teams within a six-year span. She continued her professional playing career overseas after her time in the WNBA.
Moore played on two WNIT teams and two NCAA tournament qualifiers while playing for the Badgers. She told the State Journal that she loves teaching a pressing, fast-paced style of Basketball.
"I'm a very defensive-minded coach," said Moore, who was the 2001 Big Ten Conference Defensive Player of the Year. "I love that defense can lead to offense."
[Sources: ESPN ; Badger Wire; Madison.com ]