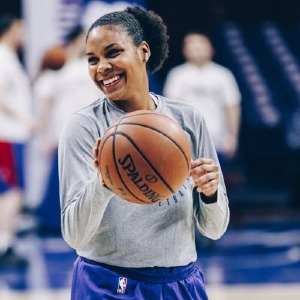 Former Women's National Basketball Association (WNBA) star, Lindsey Harding, states that she is changing the NBA game.
Harding is the first black woman to become a full-time NBA scout. She was hired by the Philadelphia 76ers before the 2018-19 NBA season. In the past nine seasons that she played with Minnesota, Washington, Atlanta, Los Angeles, New York, and Phoenix, she has had an average of about 10 points and 4.0 assists. She even played professionally in Lithuania, Turkey, Russia, and Cyprus.
The former Duke star, Lindsey Harding, became an idol for being the first female assistant coach for the Sixers when being promoted to player development coach. Her jersey, number-10, was retired after she finished her college career, leaving behind a legacy of with 1,298 points, 579 assists, 296 steals, and 565 rebounds in a school record. Harding was the sixth player in the Atlantic Coast Conference (ACC) history to record over 1,000 points, 500 assists, 250 steals, and 500 rebounds. She was named Naismith College Player of the Year in 2007.
There was a Q&A talking about Harding's professional basketball career. Someone asked her why she retired from basketball in 2017. At the end of her reply, she said, "There are some that look like they… I didn't retire because of injury. I got to choose." An usher in Philadelphia looked at Harding's credentials and asked her if she was a scout for them. She then responded "yes," making him excited to know that she was the first black woman scout. Someone else asked Harding what was the most positive comment she received. She answered that one of her best comment was from a player currently at Duke University, who wanted to keep on playing basketball thanks to Harding's positive influence. This student wanted to get into coaching and wanted to do men's basketball in the future. When Harding listened to this comment, she felt really good. The best advice she can give young girls who follow in her footsteps is to have a healthy relationship with their teammates.
Elton Brand, Sixers general manager said this about Harding, "She's a rising star in this industry."
[Source: The Undefeated ]