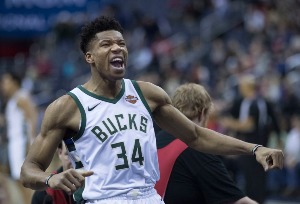 Giannis Antetokoumpo was born on December 6, 1994, in Sepolia, Athens, a city in Greece. Although he was born in Greece, Giannis was not given Greek citizenship. His parents were undocumented, and Greece doesn't have birthright citizenship.
Antetokoumpo's parents emigrated from Nigeria in 1991. He had a difficult childhood; his parents struggled to make ends meet and take care of their family of eight. Most days, Antetokoumpo and his older brother Thanasis would report to basketball practice on a near empty stomach. They played in the field closest to their modest neighborhood in Sepolia.
After working really hard, Giannis began playing professional basketball in 2009. He had become a member of the Filathlitikos' senior squad in 2012, a club in the Greek A2 Basketball League. After that, CAI Zaragoza, a Spanish club, wanted Antetokounmpo to play for them. He was chosen, however, by the Milwaukee Bucks in the NBA draft and played for them instead. It was at this point that the Greek government granted Giannis citizenship. He came to the U.S. with his Greek passport.
On April 28, 2013, Antetokoumpo entered the NBA draft for the 2013-14 season. He was selected in the first round, 15th overall. Since then, he has won many awards. He earned 2nd team of the NBA All-Rookie lineup. He won the NBA most improved player award for the 2016–17 season. He also made the NBA All-Star game in 2017. So far in his professional career, he has won a total of nine awards, including the NBA MVP in 2019 – the most prestigious award of all.
[Sources: Milwaukee Journal Sentinel; TheFamousPeople.com; Madison.com ]