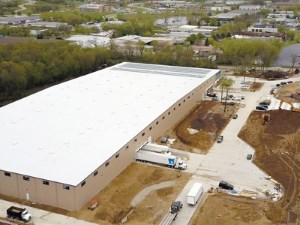 From car seats to cosmetics, you probably use foam products every day. But did you know that commercial foam is fabricated right here in Madison, Wisconsin?
Wisconsin Foam, a company that produces foam on a mass scale, recently moved into an energy-efficient, 150,000 square foot facility on the east side of Madison. The facility is around three times larger than the company's previous establishment and much greener.
"Saving energy was at the forefront throughout our expansion process," said Rick Heinritz, President and CEO of Wisconsin Foam. "As someone who enjoys the outdoors, I've always been committed to reducing pollution and making wise choices to protect the environment," he added.
One of the most notable features of the new facility is the 100-kilowatt solar panels on its roof, which are expected to produce about 20 percent of the electricity that the company uses. Wisconsin Foam also installed a data monitoring system for the panels. The company will use the data to examine its operating efficiency over time.
"This was a $250,000 investment. However, with federal energy credits and projected energy savings, we expect to achieve payback in five-and-one-half years, making a project of this scale economically viable." Heinritz said. "It's rewarding to know the sun will generate renewable energy to operate our equipment," he continued.
Another green feature of Wisconsin Foam's new facility is its geothermal energy production system. Twenty-three thousand linear feet of piping are installed into the institution's ground. These pipes take heat from the Earth at 55° Fahrenheit and use it to cool and heat the building. This geothermal system does not require fossil fuel; rather, it transfers heat to and from the ground, consequently providing a safe, environmentally-friendly method of regulating the temperature of the facility's 12,500-square-foot office space.
About one-third of the facility, where inventory is stored, uses a separate infrared system. This heating system automatically turns down the heat to 50° Fahrenheit in the winter, which helps reduce energy usage.
Furthermore, Wisconsin Foam participates in MGE's "Green Power Tomorrow" program. Through this program, the company purchases part of its power from viable resources, like solar and wind power.
"It makes sense to spend the extra money when it supports something we believe in," said Heinritz.
Wisconsin Foam's new facility is jam-packed with new, energy-efficient systems that reduce fossil fuel use. Heinritz and others involved in the expansion hope this will make the world just a little bit greener.
[Source: Madison Gas and Electric ]