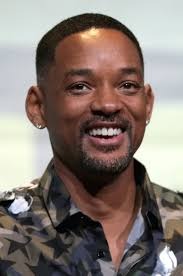 Now famous recording and performing artist and actor Will Smith succeeded at an early age. In fact, he became a millionaire before the age of 18. Amazingly, he has been just as successful throughout his career.
Born as Willard C. Smith Jr., he was born on September 25, 1968, in Philadelphia, Pennsylvania. Smith was named after his father, who was a refrigerator company owner. His mother, Caroline Bright, was a school board employee. Throughout Smith's middle-class upbringing, he attended the strict Our Lady Catholic School, even though his family was Baptist, and he went on to attend Overbook High school. His West Philadelphia neighborhood was a mixing bowl of cultures; here, Orthodox Jews co-existed with a large Muslim population. Smith was a good student, and he had a charming personality that would get him out of trouble. This trait earned him the nickname "Prince."
Smith began rapping at age 12 under the stage name, "The Fresh Prince." He rapped about what he and other teens enjoyed doing in their free time. His raps were often clean, curse-free, and entertaining. Two years later, Smith began his career in acting. Taking an interest in Smith's experiences, NBC created a comedy television show about a young, street-smart kid born in Philadelphia who moves in with his aunt and uncle in the Los Angeles neighborhood of Bel-Air. The Fresh Prince of Bel-Air was an epic success that ran for six seasons straight. Many still watch the show's re-runs to this day.
During and after "The Fresh Prince," Will Smith and his friend Jeff Townes known as "DJ Jazzy Jeff," produced several hit albums. At this time, Smith also began to act in movies.
He started acting with small roles in the movies Where the Day Takes You , in 1992, and Made in America , in 1993. Then, Smith had the lead in Six Degrees of Separation , in 1993.
Smith became recognized as a superstar after his next film, Bad Boys , in 1995. With two black leads, Smith and Martin Lawrence, the movie was an instant success. Smith's next film, Independence Day , established him as a major player in Hollywood.
For the next couple of decades, Smith continued to star in lead after lead. He also married Jada Pinkett Smith in 1997 and raised two children, Willow and Jaden Smith, both of whom are now stars in the industry themselves.
In 2016, Smith starred in DC Comics' blockbuster hit Suicide Squad . It became his most successful film since Independence Day . Today, Smith's net worth is over $200 million. Smith makes sure to give back to the community and is a role model to many people, including upcoming actors.
[Source: biograpy.com ]