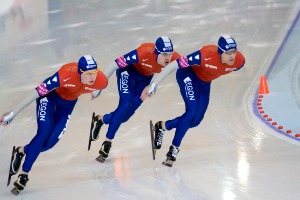 To many, ice skating is a fun and difficult sport, but did you know that there are different types of skating: figure skating, speed skating, and ice hockey.
Figure skating is dancing on ice. Figure skaters either do solos or pairs. This type of skating includes jumps of all types and various difficult spins. Sarah Hughes was an American skater and one of the first people who took gold at the Olympics for figure skating.
Speed skating is racing on ice. The first recorded speed skating race took place in England in 1814. World championships for speed skating for men started in 1890 and the international skating union was founded in 1892. Speed skating was added in the Olympics in 1924. Also in 1924, Charles Jewtraw became the first American to win gold for speed skating.
Ice hockey was first played with a ball, but the puck was introduced in the 1860s by three British soldiers; they called it shinty. Those soldiers were the first to play ice hockey in Canada. Ice hockey was added into the Olympics in 1920.
Ice skating is a very famous sport in many places. Ice skating has made the transformation from gliding across the ice to being an Olympic sport. American skaters have won more than 48 Olympic gold medals and there is no sign of them stopping.
[Source: Dictionary of American History ]