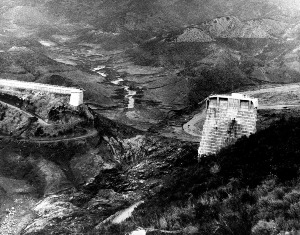 In March 12, 1928, at 11:57 p.m. the St. Francis Dam broke, freeing 12.6 billion gallons of water into the San Francisquito Canyon, destroying lots of homes, and claiming innocent lives.
Fifteen years earlier, in 1913, a 233-mile long aqueduct was opened in California by William Mulholland, Chief Engineer and General Manager of the Los Angeles Department of Water. The aqueduct brought much needed water to the Los Angeles area, but was destroyed in 1924 by angry farmers and landowners, an incident that set the stage for future disaster.
With the loss of the aqueduct, Mulholland knew the area needed a backup source of water. To provide the water, he lead the construction of the St. Francis Dam, which was completed in 1926. Standing nearly 200 feet tall and 700 feet long, the dam would hold more than 12 billion gallons of water.
Two years after the dam's inauguration, there were worrying signs of trouble.
On March 12 1928, dam keeper Tony Harnischfeger was doing a daily inspection when he found a significant leak of muddy water. He immediately called Mulholland who, alongside his deputy Harvey Van Norman, arrived at the Dam around 10:30 a.m. to perform an additional inspection. The two did not find any damage and thought the muddy water came from nearby construction. Harnischfeger even made his nightly inspection at 11 p.m.
The dam collapsed at 11:58 p.m.
A wall of water flooded the canyon. It traveled 18 miles an hour and caused terrible damage nearby towns of Castaic, Saugus, Filmore, Santa Paula, and Saticoy.
The disaster produced many heroes. The "Hello Girls" were female phone operators who called residents in low-lying areas to warn them. California Highway Patrol officers Thornton Edwards and Stanley Baker wailed their motorcycles sirens to wake up and warn residents. Universal Studios donated lighting equipment to help the rescue teams throughout the night and the Los Angeles Times set up a Flood Relief Fund.
After the dam failure, Mulholland became a public enemy, accused of mass murder. But Mulholland ended up being innocent. Untimely, The St. Francis Dam was built on unstable foundation, which was impossible to detect at the time.
[Sources: Smithsonian ; Los Angeles Times ]