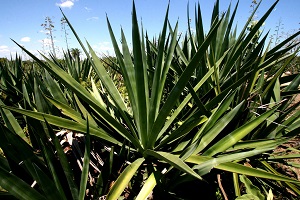 Grown in Africa, Asia, and Central and South America, the sisal plant is truly amazing. It has had a major impact on the economy of Tanzania, where thousands are employed to produce sisal.
Sisal is harvested for its fibers, which are used to make plastics, textiles, and paper. This useful plant has a similar look to pineapple with longer and wider leaves. Conveniently, sisal grows well—even in hot, dry lands that might otherwise be useless for agricultural purposes.
Tanzania is the world's second largest producer of sisal. This nation sells about 10,000 tons of the plant each year for $2,000 per ton. German agronomist Dr. Richard Hindorf first introduced sisal to Tanzania in 1893. He transported 1,000 sisal plants from Mexico to Tanzania; alas, only 62 of the plants made it safely. However, this number was just enough to seed the crop and kick off the Tanzanian sisal industry.
In the 1960's, sisal played a particularly big role in Tanzania's economy. But when cheap synthetic fibers gained popularity in the 1980's and 1990's, sisal sales dropped drastically.
Mohammed Dewji, CEO of the MeTL Group—one of the companies that produces sisal—predicted the market would rebound and bought up many sisal farms in the late 90's. It was a risky bet, but it paid off. Indeed, the global demand for sisal rose again. Today, sisal brings in millions of dollars annually for Tanzania's economy.
"It's amazing because you provide a lot of employment, I think plus or minus, our sisal farms are providing thousands of jobs, and we create housing for them, we give them health benefits, we give education support to them, so it's amazing, it's good business," said Dewji.
In short, sisal is a useful product and can be used to make many things—including a strong economy.
[Sources: CNN ; worldatlas.com ]