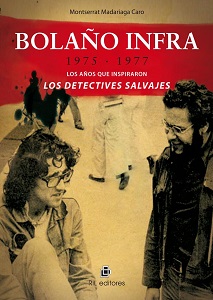 Many figures have changed the literary world throughout history, Chilean author Roberto Bolaño is one such figure.
Roberto Bolaño Avalos was born on April 28, 1953, in Santiago, Chile. Bolaño was diagnosed as dyslexic early in his childhood, but this didn't stop him from reading constantly. His family traveled throughout Chile during his youth before eventually settling in México City.
Bolaño allegedly returned to his hometown much later to join the socialist revolution. He describes this in his writing, though these accounts have been contested by other writers of the time. According to his personal account, Bolaño was captured by Chilean dictator Augusto Pinochet's army because of his implement in the revolution. He was about to be killed, but he was saved by a former classmate who happened to be within the army's ranks. After this incident, Bolaño returned to México.
Back in México, Bolaño published a collection of poetry. This launched his career. Bolaño then continued to travel the world until he settled in Barcelona, Spain. Here, he took many low-paying jobs, and continued to write. In Barcelona, Bolaño also got married and had a son. During this same time, he realized that writing fiction rather than poetry would be more financially rewarding. Thus, Bolaño wrote a series of short stories before he completed his first full-length novel titled, La Pista de Hielo , or "The Ice-Skating Rink," in 1993.
Bolaño's 1998 novel Los Detectives Salvajes , or  "The Savage Detectives," is arguably his breakthrough work. For it, he was awarded the prestigious Rómulo Gallegos Prize, which is the Spanish equivalent of the Booker Prize.
However, six years later in 1992, Bolaño had been diagnosed with a chronic liver ailment. After winning the Rómulo Gallegos prize, he wrote at what some considered a "frenetic" pace, publishing at least one book per year. This was motivated, in part, to his chronic liver ailment, which he knew would lead to his demise. Bolaño's Nocturno de Chile , or " By Night in Chile," which tells the story of a Chilean priest on his deathbed, reflects on this part of Bolaño's life. He eventually died on July 15, 2003, at the young age of 50.
Today, many agree that Bolaño's greatest work is 2666 , which was published posthumously in 2004. This novel is about young women who were murdered, loosely based on a series of murders that occurred in Juárez, México. Composed of five parts, the book brought Bolaño mainstream, global fame after its worldwide translation. In the wake of 2666 is international success, Bolaño's earlier works were also translated.
Bolaño's written word changed and continues to change the way some see and perceive the world. This makes him a memorable and great literary figure.
[Source: Britannica Online Encyclopedia ]