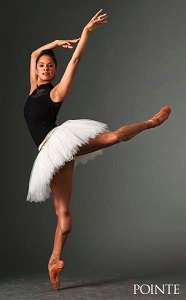 Misty Copeland was the first-ever African American principal dancer in the history of the American Ballet Theater (ABT). A principal dancer is someone who can dance in almost any performance and is almost always the lead dancer. This is one of the highest and most prestigious classes a dancer can obtain. Yet, Copeland's life wasn't always this glamorous.
Copeland was born on September 10, 1982, in Kansas City, Missouri. The fourth of six children, she was born into a rough home life. Copeland's mother had a string of failed relationships, which lead to instability in the family's home. The Copelands were often on the road and constantly moving. Shortly after Copeland and her family settled in San Pedro, California, Copeland's mother married her fourth husband, a verbally and physically abusive man.
After moving to California, Copeland started to take dance, one of her girlhood interests, more seriously. Growing up, her role model was Romanian gymnast Nadia Comaneci. Throughout her childhood, Copeland also frequently choreographed dances to music by Mariah Carey. After she was named captain of her middle school's drill team, Copeland began to take dance classes at the local Boys and Girls Club.
While Copeland was still in middle school, her mom left her abusive husband. The family struggled financially. Shortly thereafter, when Copeland was 13, her drill team teacher, Cynthia "Cindy" Bradley, took her in.
Copland's teacher-guardian fostered her entry into the ballet scene. Under Bradley's tutelage, Copeland performed the lead role in The Chocolate Nutcracker , a Debbie Allen production. "She's an incredibly gifted ballerina…she's a child who dances in her soul," said Allen of Copeland in a 1999 interview for the Los Angeles Times . "I can't imagine her doing anything else," Allen said.
Between 1999 and 2000, Copeland attended an intensive summer dance course on scholarship at the San Francisco Ballet, took classes at the Lauridsen Ballet Centre, and completed another intensive summer course with the ABT.
Copeland officially joined the ABT studio company in 2000 and, in 2015, she became the first African American principal dancer in the history of the company. She debuted in this role in a 2015 production of Swan Lake .
Copeland's career and fame have exploded since this performance. In 2015, Time Magazine named her to their list of "100 Most Influential People." Today, Copeland is a role model to dancers across the country. She is also now sponsored by numerous sports companies such as Nike.
Copeland's story is inspirational. Through her trials and triumphs, she is proof that even though life can be rough, hard work and determination can often pave the way to success.
[Source: biography.com ]