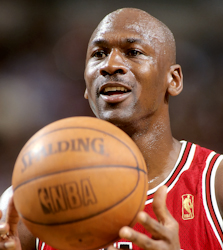 Former professional basketball player Michael Jordan, also known as Air Jordan, Black Cat, MJ, and His Airness, is known as one of the best players to play in the National Basketball Association (NBA). Jordan played in the NBA from 1984-2003. He is best known for his time as a shooting guard for the Chicago Bulls.
Michael Jordan was born in Brooklyn, New York on February 17, 1963. Jordan grew up in Wilmington, North Carolina, and developed a competitive edge at an early age. In 1981, Jordan enrolled at the University of North Carolina at Chapel-Hill where he soon became a star on the school's basketball team. He scored the winning shot for the 1982 NCAA (National College Athletic Association) Division I Championship and was selected as the 1983 and 1984 NCAA College Player of the Year.
Jordan dropped out of college his senior year to join the NBA. He was drafted by the Chicago Bulls and would later take them to the NBA playoffs. He scored an average of 28.2 points per game during the playoffs. During his career, he received the NBA Rookie of the Year Award, three All-Star MVP's, and five regular season MVP's. Jordan became the most decorated player in the NBA. Jordan also participated in the Olympics. His team won the 1984 and 1992 summer Olympic gold metal for the U.S. basketball team.
Jordan has retired from basketball three different times. Once was due to the death of his father in 1993. That same year, he decided to play as an outfielder for the Chicago White Socks in Major League Baseball (MLB). He soon returned to play in the NBA for the Washington Wizards in March of 1995.
Michael Jordan changed the face of basketball for many people. He is a role model and an amazing athlete.
[Source: Biography.com ]