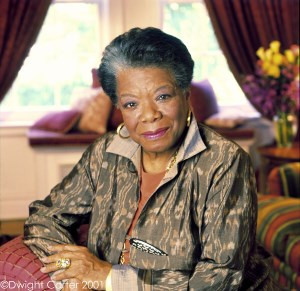 If you've ever studied poetry, you've likely read "Phenomenal Woman" or "Still I Rise." These are only two of the classics written by the talented, inspiring poet Maya Angelou.
Former President Barack Obama once described Angelou as "a brilliant writer, a fierce friend, and a truly phenomenal woman, with the ability to remind us that we are all God's children; that we all have something to offer." A well-known African-American poet, author, Civil Rights activist, dancer, and actress, Angelou was born Marguerite Annie Johnson on April 4, 1928. She only became "Maya Angelou" after marrying a Greek sailor named Anastasio Angelopoulos, and legally taking her childhood nickname and a shortened version of Anastasio's surname.
Angelou had a very challenging adolescence. In 1944, as a 16-year-old, she had a short high school relationship that led to the birth of her son, Guy. At an even younger age, she was sexually assaulted by her mother's boyfriend. Seeking revenge, her uncles killed her mother's boyfriend. This left the young Angelou so traumatized that she would not talk to anyone for the next few years.
In spite of these early difficulties—Or perhaps because of them—Angelou became a trailblazer when she published her memoir, I Know Why the Caged Bird Sings . She broke ground, not only artistically but also educationally and socially. Angelou was the first African-American woman to produce a screenplay, Georgia, Georgia in 1972. She was also the first African-American woman to have a non-fiction best seller. Angelou published several other memoirs, many poems, and even a few cookbooks. Because her work proved consistently outstanding, she received many awards, including two NAACP image awards, a Tony, an Emmy, a Grammy and an Audience choice award too she received a Pulitzer Prize for poetry and was awarded the aforementioned for her best-selling non-fiction book, " Caged Bird " in 1969.
Angelou also had many great friends, including Dr. Martin Luther King, Jr. Sadly, Dr. King was assassinated on her birthday: April 4, 1968. After his death, she no longer celebrated her birthday. Rather, she commemorated the day by sending flowers to his widow, Coretta Scott King, each year until Mrs. King died. Also, Angelou's good friend Oprah Winfrey organized several birthday parties for her, like a week-long cruise for her 70 th .
When Angelou died on May 28, 2014, from health issues, she left the world as a truly accomplished woman. Despite a life of difficult circumstances, she pushed through and, in the process, bequeathed to the world outstanding literature. Angelou's words continue to touch the hearts of many.
[Source: Biography.com ]