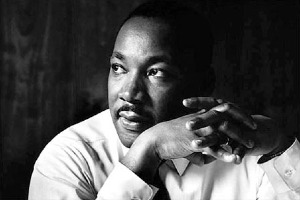 Martin Luther King Jr. was an incredibly influential civil rights activist not only to the African-American community but also worldwide. He fought for equal rights for African-Americans and other groups of people until he was assassinated in 1968.
Born on January 15, 1929, in Atlanta, Georgia, King was the middle child of three. His mother, Alberta Williams King, and his father, Michael King Sr., were very involved in their religious community. Both King's father and grandfather were preachers, and King grew up in a religious, disciplined, and loving home. Devastated at age 12 when his grandmother died, King allegedly tried to end his life by jumping from a two-story window.
Throughout his youth, King was an outstanding student. He skipped the ninth and eleventh grades at Booker T. Washington High School and entered Morehouse College in Atlanta at the young age of 15. In 1948, at age 19, he graduated from college with a sociology degree.
Though he was a talented scholar, King was not always well behaved. During college, he disobeyed his parents by smoking, drinking, going to parties his parents did not allow him to attend, and dating women his parents found 'questionable.' At the same time, King's spiritual life flourished at Morehouse after he took a Bible class. King then began to envision a future for himself in Christian ministry and attended the liberal Crozer Theological Seminary in Chester, Pennsylvania. Here, King was the president of the student body and the valedictorian of his class.
Sometime after college, King met well-known signer Coretta Scott, whom he eventually married in 1953. The couple had four children.
In 1955, King became the pastor of a church in Montgomery, Alabama. Later in the same year, he also completed his PhD at Boston University, thus making him Dr. Martin Luther King Jr. at only 25.
During his adult life, Dr. King fought unjust systems and worked to get rights for all. In the spring of 1963, Dr. King organized a demonstration in downtown Birmingham, Alabama for civil rights. The rally quickly and unexpectedly turned violent when police forces arrived with dogs and fire hoses to use against rally-goers, many of whom were arrested. Dr. King was among those arrested. After this, Dr. King was criticized for putting not only adults but also children who were present at the rally in danger.
Nevertheless, Dr. King continued to plan peaceful demonstrations to challenge inequity. Over 2,500 people came together for the famous march from Selma to Alabama's capital in Montgomery. By the end of the march, over 25,000 people gathered in front of the state capitol to hear Dr. King deliver one of his most powerful and moving speeches, which was also televised. In response, President Johnson signed the 1965 Voting Rights Act five months later. This Act prohibited racial discrimination in voting.
Three years later, Dr. King was assassinated while at the Lorraine Motel in Memphis. His death spurred riots and demonstrations across the country.
Dr. King has had a profound impact on race relations in the United States. Many schools, memorials, public buildings, and even a holiday are named after him in commemoration. Today, Dr. Martin Luther King Jr. is widely remembered as one of the most influential, inspiring African American leaders of all time. His poignant words and legacy continue to encourage Americans to work together to achieve a more equal, just society.
[Source: biography.com ]