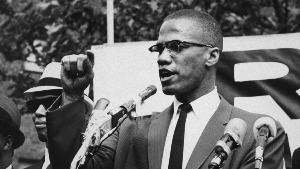 Malcolm X was an American Muslim leader, born on May 19, 1925 in Omaha, Nebraska. He was a well-known figure in the Nation of Islam, who came up with concepts of race pride and Black nationalism in the early 1960s. His autobiography was widely read after he was assassinated, which made him a hero among Black youth and the Black community.
When Malcolm was an infant, he and his family moved to Lansing, Michigan. When he was six years old, his father Earl Little, also known as Marcus Garvey, a Baptist minister and former supporter of early black nationalism, died after getting hit in the street by a car. People speculate that white people murdered him. The rest of his surviving family became so poor that his mother, Louise Little, resorted to cooking dandelion greens in order to feed her children. When his mother was sent to an insane asylum in 1939, Malcolm and his siblings were reported to have either been sent to foster care or to live with other family members.
Malcolm was a great student until one of his eighth-grade teachers told him that "he should just become a carpenter instead of a lawyer." He lost interest and gave up on school, becoming a rebellious youngster. Malcolm moved from Michigan State Detention Home, a juvenile home in Mason, Michigan, to the Roxbury, a section of Boston to live with his half-sister, Ella. He later became involved in petty criminal activities. In Boston, he was known as "Detroit Red" because of the reddish tinge in his hair. He developed into a street hustler, drug dealer, and leader of a gang of thieves in Roxbury, Boston and Harlem, New York.
While imprisoned in 1946 to 1952 for robbery, he heard a conversation that eventually led him to join the Nation of Islam - an African American movement that combined elements of Islam with Black nationalism. He was influenced by his brother Reginald, who was already a member in Detroit. Malcolm quit smoking, gambling, and eating pork (to keeping with the Nation's dietary restrictions). He spent long hours reading books in the prison library and then replaced his surname, " Little" to "X.''
After his release from jail, he met Elijah Muhammad, a political leader and Malcolm's mentor, in Chicago in 1952. Malcolm then began organizing temples for the Nation in New York, Philadelphia, Boston, and some southern cities. He was named the National Representative of the Nation of Islam. Second in rank to Muhammad, he preached on the streets of Harlem and spoke at major institutions such as Harvard University and the University of Oxford. He also criticized the mainstream Civil Rights Movement, challenging Martin Luther King Jr.'s central notions of integration and non-violence. He argued the most about Black identity, integrity, and independence. Malcolm urged his followers to defend themselves " by any means necessary,'' and helped change the popular terms "Negro" and "Colored" to "Blacks'' and "African-Americans.''
On February 21, 1965, Malcolm was assassinated while delivering a lecture at the Audubon Ballroom in Harlem. Three members of the Nation of Islam were charged with the murder. He was survived by his wife Betty Shabazz, whom he married in 1958, and six daughters. His ideas and speeches contributed greatly to the Black Power movement and helped popularize the values of autonomy and independence among African- Americans in the 1960s and '70s.
[Source: Article History.com ]