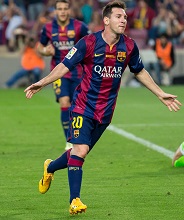 Lionel Messi is a professional soccer player. He is well known for establishing goal-setting records.
Messi was born on June 24, 1987 in Rosario, Argentina. He moved to Spain at the age of 13 when he was offered a chance to train at the FC Barcelona Youth Academy, a soccer school for young people. Messi and his parents had to move to a new country and new home to account for the training.
Messi's training with FC Barcelona spurred him to much success in his later life. In 2010 and 2011, he helped Barcelona to La Liga and Spanish Super Cup championship respectively. And in 2012, Messi became the first person to score five goals in a Champions League match. He impressed famous retired soccer player Diego Maradona, who then mentored Messi to become a better player. Specifically, he taught Messi new ways to escape from defenders.
Today, Messi is one of the highest paid athletes in the world. Until 2018, he will get paid an astounding $21 million per year.
Messi is more than just a famous athlete, however. In 2007, he created a foundation called the Leo Messi Foundation to provide opportunities for disadvantaged kids. Messi is himself a dad: Messi had his first son Thiago in 2012 and his second son Mateo in 2015 with his longtime girlfriend, Antonella Roccuzzo.
Many people know of Messi's success, but few people know how he got there. A fascinating life and a whole lot of hard work led him to become the amazing soccer player he is today.
[Sources: biography.com ; Simpson Street Free Press Archives ]