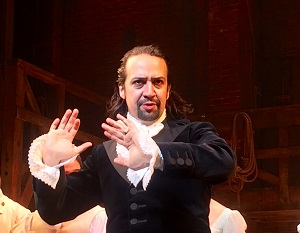 If you watch TV, have social media accounts, or listen to the radio, you've probably heard about the famous musical Hamilton at least once or twice in the past few months. This production, which chronicles the life of the first secretary of the treasury, Alexander Hamilton, has recently earned great acclaim. But who is behind this smart, unique, and engaging musical?
Lin-Manuel Miranda, Hamilton 's playwright, has led an interesting life. Though he is best known for this musical, he has also appeared on TV shows and was even a teacher for a short time. In fact, how Miranda became a playwright is a story in itself.
Miranda was born on January 16, 1980, in New York City, New York. His Mother, Luz Towns-Miranda, and father, Luis A. Miranda Jr., are both Puerto Rican. Miranda grew up in Manhattan's Inwood neighborhood with his parents and his sister, Luz Miranda-Crespo.
While growing up, Miranda and his sister took piano lessons and shared a deep love for Broadway. Though he was exposed to a wide variety of music, Miranda especially loved hip-hop. His favorite musical group was the Beastie Boys.
Miranda performed in many student productions at Hunter College's elementary and high schools throughout his teen years. Later, he majored in theatre studies at Wesleyan University.
Shortly after college, Miranda became a high school English teacher. But in 2008, his life forever changed when he debuted a musical he had begun to develop while still at Wesleyan. The play, called In the Heights , combined typical show tunes with Latin sounds. It was a great success and ultimately won four Tony Awards.
In the years that followed, Miranda continued to make a name for himself on Broadway. In 2009, he did some translation work for a revival of West Side Story . Three years later, he wrote lyrics for Bring It On: The Musical .
Also in these years, Miranda made a number of TV appearances. He acted on shows including The Sopranos , How I Met Your Mother , and Modern Family . He also appeared in the films The Odd Life of Timothy Green and 200 Cartas .
At some point while balancing his busy career and family life, Miranda went on vacation and picked up Ron Chernow's biography Alexander Hamilton . That is when the now-famous Hamilton saga began.
Hamilton debuted in early 2015 at the Public Theatre. It came to Broadway just months later and soon broke records for pre-selling tickets. The play is especially well-known for its diverse cast and incorporation of R&B and hip hop music.
In 2016, Hamilton earned the Pulitzer Prize for drama. The musical was also nominated for 16 Tonys, a record-breaking amount in Broadway history, and eventually received 11 of these awards.
Many notable people have attended Miranda's plays, including former President Barack Obama. Miranda's fans can't wait to see what masterpiece he will bring to life next.
[Source: biography.com ]