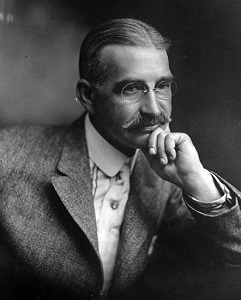 Do you know who L. Frank Baum is? Here's a hint: The Wicked Witch of the West.
Baum was born on May 15, 1856, in Syracuse, New York. Despite being born into a rich family, Baum suffered from a weak heart. Because of his condition, he missed school and was educated at home. He also briefly attended military school when he was 12.
When Baum grew up, he started to look for a job. He got interested in theater, and wrote many plays. In his early 20s, he managed a local theater, where he put on his own play, The Maid of Arran . Baum hired actors to play his characters, but he gave himself the leading role. Sadly, and inconveniently, there was a fire at the theater. It burned all the scripts and costumes for Arran . This tragedy pushed Baum to give up theater.
Fortunately, things began looking up for Baum when he fell in love with an actress named Maud Gage and married her. Soon after they got married, Baum and Gage had two sons. Every night, Baum told his sons stories that he made up. When his mother-in-law was over, she overheard his stories and told him to write them down, which he did. He eventually published them in his first book, Mother Goose .
After a few books, Baum had writer's block. But he fought through this struggle and had a burst of inspiration: he started with the characters. First came the famous Dorothy Gale, created after Maud's niece who had passed away. Then came the character "Glinda the Good Fairy," who was based on Baum's mother-in-law. He called this now famous story The Wizard of Oz .
Just like Baum's life story, The Wizard of Oz has been an inspiration to many people. Since its inception, this play—and now movie—continues to brighten the lives of many today.
[Source: biography.com ]