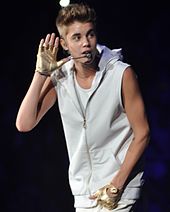 Justin Drew Bieber, known simply to much of the world as Justin Bieber, is a pop superstar who was first discovered via YouTube at age 12. Born on March 1, 1994, Bieber was raised in Stratford, Ontario by a single mother.
From an early age, Bieber had a keen interest in music. When he was just two-years-old, his mother bought him a drum kit. Justin recalls much of his childhood as, "basically banging on everything I could get my hands on."
Throughout his childhood, Bieber participated in many music talent contests. At age 12, he competed in one such contest in his hometown and won second place. However, it was his YouTube covers of songs by artists like Chris Brown, Stevie Wonder, and Brian McKnight, that eventually brought him fame. When his mentor, Usher, and his now-manager, Scooter Braun, first stumbled upon Bieber's videos, Braun quickly arranged a meeting.
In 2009, Bieber released his first single, "One Time." The song went certified platinum in Canada. Later that year, he released his first album, "My World." This album sold over 137,000 copies within a single week.
Just one year later, Bieber made it onto the Billboard Top 10 with his hit song "Baby," which features rapper Ludacris. He went on shortly thereafter to release "My World 2.0." And in 2011, Bieber came out with the hit documentary "Never Say Never." This film includes guest appearances by Miley Cyrus, Kanye West, and—of course—Usher. In the same year, Bieber also released a Christmas album that included a duet with Mariah Carey.
Bieber's growing success did not come without hardship and scandal, however. While Bieber was still only a teenager, a woman claimed that he was the father of her child. Though a DNA test ultimately proved this accusation false, the rumor generated bad publicity for the young artist. Upset, Bieber sang about the scandal in his hit song "Maria." And despite generating quite a few additional scandals throughout the following years due to childish mistakes and poor behavior, Bieber continued to release hit after hit.
The past couple of years have only increased Bieber's clout and fame. In 2015, he made the Top 10 with his summer hit "Where Are Ü Now," a collaborative piece with Diplo and Skrillex. Only months later, he landed his first number-one single with "What Do You Mean?". This song which eventually earned him a Grammy Award for "Best Dance Recording" in 2016.
Bieber's success is impressive, especially to a young, aspiring singer/songwriter like myself. Despite his string of scandals, Justin Bieber will always be an iconic figure in pop music and will continue to inspire many people around the world.
[Source: biography.com ]