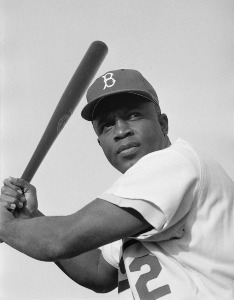 Famous athlete Jackie Robinson broke the color barrier and became the first black person to play major league baseball.
Jack Roosevelt Robinson, which was his full birth name, was born on January 31, 1919 in Cairo, Georgia. The youngest of five children, he was raised by his single mother. Robinson attended John Muir High School and Pasadena Junior College. While growing up, he was a good athlete and played four sports: football, basketball, track, and—of course—baseball.
After attending college, Robinson joined the Army in 1944, before playing baseball professionally. At this time, African Americans weren't integrated with white people in many public places and were often blatantly mistreated.
After the war, Robinson began playing in the Negro Leagues. He was quietly chosen to play for the Brooklyn Dodgers by the President of the team, Branch Rickey. Here, Robinson had a batting average of .311.
After an outstanding professional baseball career, Robinson died on October 24, 1972. He is a very important person because he was the first black person to play baseball in an all white major league. Robinson inspires athletes and others to this day.
[Source: biography.com ]