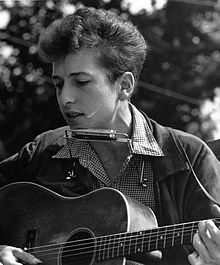 The question "is music poetry?" crossed my mind on a Tuesday afternoon at the Simpson Street Free Press newsroom, when I stumbled across a news release my editor Aarushi Agni had placed inside my folder. The release, a recent article from The New York Times , explained the reactions of the literature community after the iconic Folk singer/songwriter Bob Dylan was awarded the Nobel Prize in Literature for his songwriting work. While some may find it odd for Mr. Dylan to receive such a respected award in literature for his work in Folk music, I am convinced that his lyrics have earned him a spot among the greatest writers.
"Most song lyrics don't really hold up without the music, and they aren't supposed to," said poet Billy Collins. "Bob Dylan is in the 2 percent club of songwriters whose lyrics are interesting on the page, even without the harmonica and the guitar and his very distinctive voice. I think he does qualify as poetry," Collins added.
While I agree that Dylan's work is poetic, I find Collins' statement a bit condescending. It generalizes the quality of all music lyrics that no doubt excludes a large variety of musicians. As someone who grew up listening to Spanish music, some of my early experiences with poetry were through song. I remember, in particular, Juan Luis Guerra's performances—ones that are rich with storytelling and emotion.
I much prefer the sentiments expressed by Salman Rushdie's over Collin's remarks. In a tweet, Rushdie called Dylan, "the brilliant inheritor of the bardic tradition," followed by, "[g]reat choice."
Rushdie's tweet does not exclude other musicians. Instead, it congratulates Dylan for earning the incredible Nobel Prize. Rushdie's praise for Dylan also refers to William Shakespeare, commonly known as "the bard." As I'm sure many know, Shakespeare was a poet and playwright whose work is both lyrical and poetic. In fact, many would likely say that Shakespeare's work has influenced generations of great literary authors.
As a young musician and lyricist, I have learned to appreciate the effort that goes into composing song lyrics. Whether a song is good or bad, I believe that lyrics are inherently a kind of poetry. I congratulate Mr. Dylan on earning an award for his great poetry in lyrics. And moreover, I think it's about time that a musician gets recognized for his or her lyrical abilities by the Nobel Foundation.
[Source: The New York Times ]