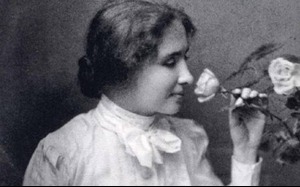 Helen Keller was unique and will always be a role model for the many things she accomplished.
Helen was born in Tuscumbia, Alabama in 1880, on June 27. Her dad, Arthur Keller, was a captain in the confederate army. After her mom died, she was raised by Kate Adams, a young woman who was soon married to Mr. Keller. Helen had four sisters and brothers.
When Helen was 19 months old, she got sick. The illness didn't last long but it cost her lost sight and hearing. At age seven, Helen was referred to the Perkins Institute for the blind. Her family tried to create new ways to communicate with her. She learned more than 50 signs of her own to express her emotions. But even so, Helen was frustrated because she couldn't communicate well and she began to act out.
Anne Mansfield Sullivan was sent to work with Hellen at her home. She was determined to teach Hellen to maintain her seat at dinner, not have tantrums, and eat with utensils amongst other things. Anne stayed with Helen with anne's death on October 20, 1936.
Helen she remained positive and accomplished many things despite her struggles. She learned how to read English, French, German, Greek and Latin in Braile. In 1904 she started studying for a college degree at the age of 24. She graduated from Radcliffe college, to became the first deaf blind person to earn a Bachelor of Arts degree. Hellen campaigned internationally to improve facilities for the blind and deaf, she learned arithmetic, geography, zoology, and botany. Helen even made two movies about her life. The first movie, titled Deliverance, was made in 1919. The second, Helen Keller in Her story, won an Oscar in 1955.
Hellen Keller died on June 1, 1968. She was an inspirational, determined woman that will always be remembered.
[Source: Women who changed the world ]