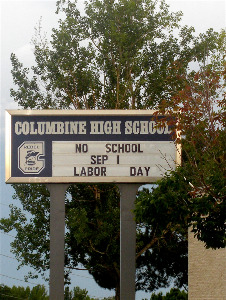 On April 20th, 1999, two American teenagers named Eric Harris, 18, and Dylan Klebold, 17, were responsible for 13 deaths and many more injuries among teachers and students at Columbine High School in Colorado. This shooting was the biggest at the time in the United States.
Harris and Klebold had previously suffered mental breakdowns due to bullying. The two teens spent a year and a half planning the massacre, choosing the date April 20th to honor Adolph Hitler's birthday. Their original plan was to detonate two propane bombs in the library, which would bring the second floor down on the cafeteria, which would've killed over 600 students and teachers. Then they planned to fire two semi-automatic weapons from two different locations in the parking lot. Afterwards, they would go to their cars. There they had more explosives and planned to keep attacking before taking their own lives. According to their journals, they originally planned for 2,000 students and staff to die that day.
When Harris and Klebold realized that their homemade bombs wouldn't detonate, they formulated a new plan, which included the use of arsenal shotguns, semi-automatic machine pistols, pipe bombs, knives, and small carbon dioxide canister bombs. On the day of the shooting, Harris and Klebold had "the time of their lives" as they laughed and screamed while killing their victims.
At 11:19 am, the first gun was shot three times at a man on the sidewalk. By 11:23 a.m., everyone was running for safety. Two students were shot and six were wounded. A business teacher and a coach had just reached the cafeteria when one of them was shot to death. Then the shooters headed to the west entrance of the school. When an art teacher saw Harris, she ran and called 911. Five minutes later, the police arrived at the school's west-side parking lot. The two shooters started to throw bombs inside the building. At this point, parents were angry because the police wouldn't enter until a Special Weapons And Tactics (S.W.A.T.) team arrived. Everyone thought there were six to eight shooters. At 12:06 p.m., the SWAT team entered the west-side of the school to capture the shooters. By 1:10 p.m., 13 people had already died and 23 were seriously wounded.
The Columbine school shooting is remembered as one of the worst mass shootings in the history of the United States. As more school shootings have occurred, many students are now calling for action on gun control and mental health issues. School should be a place to learn, not to die.
[Source: The Guardian ]