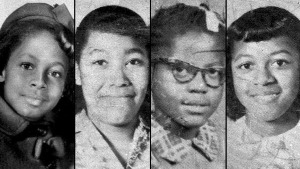 During the wild – 1900's, black homes and churches were bombed so often that Birmingham, Alabama that the city got the nickname "Bombingham".
One of many such incidents that occurred is known as the "Birmingham Church Bombing". On the morning of September 15, 1963, at 10:22 a.m., at the 16th Street Baptist Church, around 200 church goers were present when a bomb detonated in the church's east side. Many members of the church had time to evacuate while the building filled with smoke. Unfortunately, after the fire and chaos the bodies of four young girls - 14-year-old Addie Mae Collins, Cynthia Wesley, Carole Robertson, and 11-year-old Denise McNair - were found in a basement restroom. Sarah Collins, who was also in the church's restroom at the time of the explosion, lost her right eye. The bombing injured more than 20 additional people. Civil rights activist Dr. Martin Luther King Jr. spoke at the public funeral for three of the bombing victims and lamented the deaths of the four young girls.
The Birmingham Church Bombing was the third bombing in Birmingham in 11 days. Following these events, a federal court ordered the integration of the Alabama school system. Angry black protestors gathered at the scene of the Birmingham Church Bombing. When Alabama Governor Wallace ordered the police and state troopers to break up the protests, violence broke out across Birmingham. Police arrested protestors, and two young African American men were killed - one by a police man.
Protestors and others across the nation suspected that some of Birmingham's most well-known white supremacists were responsible for the bombing at the Church. It was later revealed that the Federal Bureau of Investigation (FBI) had information regarding the bombers identity as early as 1965, but said nothing because the head of the FBI at the time, J. Edgar Hoover, did not believe in the Civil Rights Movement. After Hoover's death, in 1972, Alabama's Attorney General, Bob Baxley, reopened the investigation. In 1977, this lead to a conviction of murder for Klu Klux Klan leader, Robert E. Chambliss. He died in prison in 1985.
The investigation was reopened in 1980, 1988, and again 1997, when Klan members Thomas Blanton and Bobby Frank Cherry, were finally brought to trial. Blanton was convicted in 2001 and Cherry in 2002. The investigation identified another suspect, Herman Frank Cash, but he died before standing trial.
Though it was a tragedy, the Birmingham Church Bombing enabled Dr. Martin Luther King Jr. and other activists to spread their message about the importance of desegregation across the country to populations for whom the bombing was a wake-up call.
[Source: History.com ]