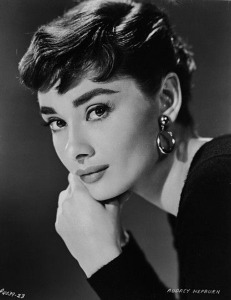 Audrey Hepburn was born on May 4th, 1929 in Brussels, Belgium. She lived across Europe in places like London, Kent, Linkebeek, Tolochenaz and Arnhem. She was the child of Ella van Heemstra and Joseph Ruston. She died on January 29, 1993 of Appendix cancer.
Audrey Hepburn was mainly known for her acting. Hepburn was one of the most popular and beloved actresses in the Cinema. She was loved just as much as her contemporary, Marilyn Monroe, even though they were nothing alike. Two successful films that Audrey Hepburn acted in were Roman Holiday (1953), and Breakfast at Tiffany's (1961). Not only did those movies become very well known, but after the success of Roman Holiday , she shifted the vision of women because of her new and refreshing image.
Hepburn also loved fashion; in fact, she was more into fashion than acting. She modeled and was said to do more for the designer than the designer did for her. In the 50's and 60's she created a signature style out of pantsuits with a Louis Vuitton bag and oversized sunglasses. Her signature styles became very influential in the 20th century and more.
Although Hepburn "never thought she was pretty", her looks have captivated millions. Her style included very short hair and thick brows. She had a slender and petite frame, with a long neck, strong jawline and gorgeous smile. Her eyes captivated people on the big screen. How she looked was considered the new standard of beauty, so much that she had a look named after her. The "Hepburn" look became more favored as opposed to the usual curvy or voluminous look.
Even after her death, Hepburn continues to be an icon to many people because of her looks, fashion, and change to the movie industry.
[Source: The Importance of Being Audrey- Biography.com ]