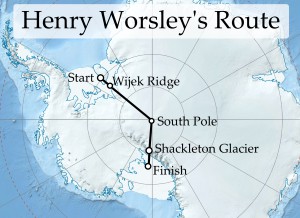 Could you imagine walking over 1600 kilometers, alone and in the cold, harsh weather of the Antarctic? This past year, a man almost completed this nearly impossible task.
The Antarctic is a cold place. Home to the south pole, this continent is a total of 14 million square kilometers, 280,000 of which are land. The rest is ice or snow.
The 55-year-old English adventurer and veteran, Henry Worsley, attempted to cross the Antarctic through the south pole. Just under 50 kilometers from completing the trek, he died of organ failure.
In the Antarctic for 71 days before dying, Worsley made his final statement: "The 71 days alone in the Antarctic with over 900 miles covered and gradual grinding down of my physical endurance finally took its toll today, and it is with sadness that I report it is journey's end – so close to my goal." While his death is tragic, Worsley raised over $140,000 for wounded troops on this journey.
Worsley was not the first person who tried to cross the Antarctic. Ernest Shackleton tried to complete this task over a century ago. This journey became a war between Shackleton's team and the elements, after their ship, The Endurance, crashed. Worsley's ancestor, Frank Worsley, was the skipper on Shackleton's voyage. This sparked Worsley's desire to make the trek.
People are capable of doing amazing things, as Worsley's legacy shows. Worsley died, yet he showed us that if we work hard enough, we can fulfill our dreams or at least die trying.
[source: Associated Press ]