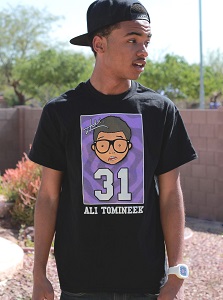 Ali Tomineek is an American hip hop artist, producer, actor, and writer. With just a keyboard and single song verse, he launched his career when he was only 13-years-old.
Tomineek was born in Arizona on February 28, 1997. As a child, he was always interested in music and music production. In 2011, he began to upload videos of his own raps to YouTube, where many people soon noticed his fast-paced lyrical skills.
By the age of 18, Tomineek wrote and produced his first full-length album, "February 31st." Combined with his YouTube videos, this debut album quickly brought Tomineek increased fame. He has since opened for artists like T.I., Rae Sremmurd, Kid Ink, Tech N9ne, and Logic. Additionally, Tomineek has headlined his own concert with special guests including LV Sharp and SuperDuperKyle.
Today, Tomineek has more than 100,000 YouTube subscribers. He also engages many of his fans through the Ali Tomineek Music Club, which he himself created. Tomineek plans to go on his first official tour when this fan club gains 100,000 members.
Tomineek believes that love, unity, fun, and peace define hip hop culture. His most recent mixtape "I Ain't Sorry" encourages fans to be unapologetically themselves. Unlike most rappers, Tomineek's music is profanity-free. His lyrics always have a positive message.
Though he is relatively young, Tomineek's quick and smart rapping style attracts people of all ages. And, in his own words, "hip hop is not about who's the best but it's about what you do when you have the mic."
[Sources: alitomineek.com ; famousbirthdays.com ]