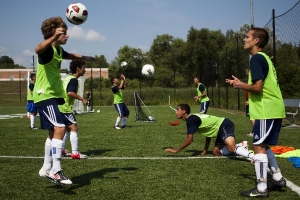 Did you know that if you practice at least three times per game you could improve your soccer skills? There are many different kinds of things you can do to better your game. Start with basic drills. "Go outdoors, grab a ball, and keep it close to your feet. That will help improve your ability to run with the ball close," Says Hugo Grajeda, Director of Pro Youth Soccer Academy in Chester, New York.
Grajeda also indicates that it's important to stretch. Stretching will loosen up your muscles. Before each game or practice, for example, start with a 10 minute warm up by completing a series of stretches.
The best way to improve your skills is by practicing. Practice may not seem like the most fun part of playing soccer, but it's the best way to develop your skills. You can make practicing fun by grabbing a partner and doing drills in a competitive way.
Soccer may seem hard, but with a lot of dedication and practice you can be good at the sport!
[Source: Time For Kids ]