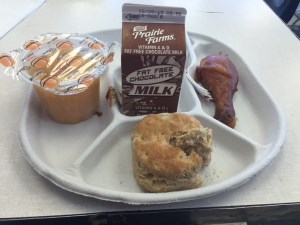 Are school lunches unhealthy for kids in America? Students from the Chicago Public School district seem to think so. According to guidelines set by Michelle Obama, school lunches are supposed to consist of a main dish with a grain and/or protein, a vegetable, and fruit and dairy. Lunch programs that offer healthy and nutritious meals must follow strict guidelines. However, students at Roosevelt High School in Chicago, Illinois feel that the food they're being served is barely edible, let alone healthy.
According to a recent The Huffington Post article that followed a student-run blog, Chicago students do not feel that their school lunches are healthy. Pizza, fried chicken patties or hamburgers are often their only options, and they've been served spoiled, bruised, or burnt food. The students created their own website featuring photos of unappetizing food they've been served at school. "Lunch is supposed to be the place where students get the best healthy lunches like salads, sandwiches, fresh fruits, etc. Instead they give gross, unhealthy food," said Jacquez Conwell, a junior at Roosevelt High School.
However, even with Aramark's questionable operations, widespread childhood obesity can't be blamed on schools entirely. David Katz, a nutritionist and instructor at Yale's School of Public Health said, "we have rampant childhood obesity and diabetes. Better food is the remedy, and schools could be leading the way. Instead, this the case, they are clearly holding us back."
Chicago public schools have a $97 million-a-year contract with Aramark. The catering company serves 380 school districts nationwide. They also provide lunches for correctional facilities. On the school website, students alleged that some inmates were receiving better food than they were.
In response to the complaints, Aramark chose five students from the district to log daily quality of the food and report back in an upcoming meeting. Students who took part were cautiously optimistic that student lunches would improve.
[Sources: The Huffington Post ; schoolnutrition.org; rhsschoollunch.wordpress.com ]