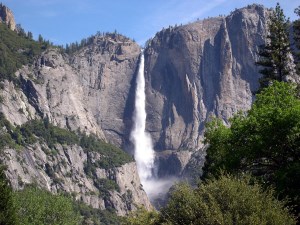 California's Yosemite National Park is a very large and beautiful place. Home to thousands of animal and plant species, the park boasts awesome mountains, scenic valleys, and clear rivers.
Located in the Sierra Nevada mountain range, Yosemite was once inhabited by the Ahwahneechee Native Americans. In 1851, the Mariposa Battalion—a group of "Westerners"—was assigned to remove the Ahwahneechee from their land and bring them to a reservation.
Just a few years after this land was "discovered" by the Westerners, word of its beauty spread. Sightseers from across the nation came to see the area's vast valleys.
Famous environmentalist John Muir helped draw up proposed boundaries for a park in Yosemite in 1889. The park's name ultimately came from the Native American word for grizzly bear, uzumati.
Muir went on to co-found the Sierra Club in 1892. To this day, the Sierra Club works to preserve and protect the Earth's natural resources. He also wrote magazine articles that led to Yosemite's ultimate creation in 1890. Muir spent most of his life in the Pacific Northwest.
Today's visitors to Yosemite enjoy the same memorable experience the park's early visitors once had. At 2,424 feet, Yosemite Falls, which is located in the central Sierra Nevada mountain range of California, is a major park attraction. Many say the Falls are best viewed in late spring, when the snowmelt flows vigorously.
Another major Yosemite landmark is El Capitan, which stretches roughly 3,000 feet from its base to its top. The peak was once considered impossible to climb, though these days many climbers tackle one route on El Capitan called "the nose." This path follows the rock's huge projecting front.
Those who enter Yosemite from State Route 41 are in for a special treat called "Tunnel View." This overlook offers a breathtaking snapshot of Yosemite Valley and several of the park's attractions including El Capitan, Half Dome, and Bridalveil Fall.
Yosemite National Park is one of America's natural gems. If you're ever headed west, make sure to stop by and enjoy this awesome park.
[Sources: 100 Great Wonders Of The World ; Yosemite's 13 Must-See Attractions ]