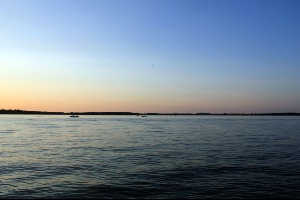 On a chilly and cloudy morning, we took a trip to Lake Farm County Park, a section of the Capital Springs Recreation Area, to take a tour of the property and the new Lower Yahara River Trail. The Lower River Trail includes a new boardwalk bridge that stretches over Lake Waubesa, connecting Madison to McFarland. The total distance of the trail is 2.5 miles, and the bridge itself is an impressive mile long. The boardwalk bridge is fully accessible and features fishing piers and scenic outlooks. At the end of the bridge, the tranquility of McDaniel Park awaited us.
We walked back across the bridge to Lake Farm County Park. We soon realized there were many connecting trails for those who enjoy activities such as hiking and cross-country skiing.
This county park is home to the Lussier Family Heritage Center and is host to the largest campground in the county parks system. The park also has three shelters at different points with playgrounds, picnic areas, and volleyball sections. By the first shelter, there is an observation tower that was recently renovated and provides a stunning view of the surrounding area. With to large acres of woodlands, marshes, and prairie, the park is home to many native wildlife species. Two Sandhill cranes attracted our attention on this day.
Lake Farm County Park is a place for anybody and everybody to enjoy a wide range of activities. Our favorite feature would have to be the scenic outlooks along the bridge. This park is very welcoming to all its guests, and we highly recommend this park.
Although we did not get to visit the all amenities, the Capital Springs Recreation Area also includes a dog park and a disc golf course.