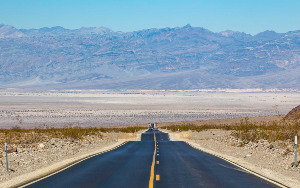 Death Valley is a desert located between California and Nevada. It is the hottest place on planet Earth, the highest temperatures in Death Valley can reach up to 134 degrees Fahrenheit.
Thousands of years ago, Death Valley was covered in three feet of ice. It has been a glacial landscape twice, and it has also had four volcanic periods.
Death Valley got its name in reference to a terrible accident. In 1849, a group of "49-ers," people heading west because of the California gold rush, tried to take a shortcut through the desert. Many died from dehydration and the scorching heat.
Death Valley has very little rainfall, even though the Valley lies close to the Pacific Ocean. It is dry because the rain falls out of the moist ocean winds before they reach the Valley, leaving only hot air.
Even though Death Valley is so hot, it still hosts life, including Bighorn sheep who have adapted to the heat remarkably. Some wildflowers also grow in the Valley watered by occasional spring storms.
Humans, too, are part of the life in Death Valley. A small community of Native Americans from a tribe called Timbisha-Shoshone live near Furnace Creek. George Lucas filmed parts of the Star Wars movies in the northern half of the valley, a region called the Mesquite Flat Dunes. And, despite dangerous conditions, Death Valley attracts around one million tourists every year.
[Source: 100 Wonders of the World ]