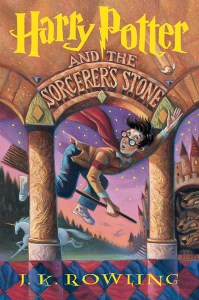 1. The Harry Potter Series by J.K. Rowling
The Harry Potter series is about a boy named Harry Potter and his adventures as he leaves behind his mundane life to attend the Hogwarts School of Witchcraft and Wizardry. Just as Harry is settling into his new life as a wizard, he learns that the infamous villain Lord Voldemort is preparing to take over the wizarding world. Harry and his friends have to find a way to defeat Voldemort.
The Harry Potter series was heavily influenced by J.K. Rowling's life. Some examples are Hermione, one of the series protagonists, who has a lot of the characteristics of J.K. Rowling had when she was younger. Also the dementors, scary demon-like villains in the novels, are based off of J.K. Rowling's struggle with depression following the death of her mother.
One of the things that I like best about this series is the rivalry between the different Houses of Hogwarts, into which each student is placed by a "sorting hat." All of the different houses are constantly fighting against each other for points and to win the House Cup. This is definitely an excellent series for anyone who is a fan of magic, wizards and witches, and fantasy in general.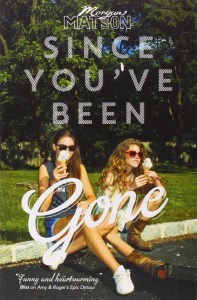 2. Since You've Been Gone by Morgan Matson
Since You've Been Gone tells the tale of Emily and Sloane, two best friends who have been through thick and thin together. At the beginning of what was going to be an amazing summer, Sloane suddenly disappears. She leaves behind only a list of crazy activities. Emily has to venture out of her comfort zone to finish the list--and hopefully find Sloane along the way.
I love this book because of all of the strange activities on the list, for example stealing something or kissing a stranger. Each of the activities is designed to make Emily face her fears, and it's interesting to read about how she completes all of them. I also love the lessons this story offers to its readers: take risks, but also about love yourself. Though Emily is shy and considers herself the "lesser one" in her friendship with Slone, when Sloane leaves, Emily has to learn how to stand as her own person and love who she is.
If you like a light-hearted, funny, teen fiction book, then you should definitely read Since You've Been Gone .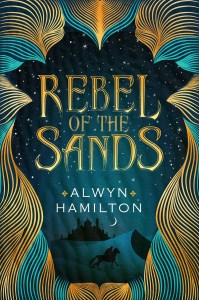 3. Rebel of the Sands by Alwyn Hamilton
Rebel of the Sands is a fascinating novel about Amani, a young teen living in Dustwalk, a dead-end town in the middle of a desert. When Amani meets Jin, a mysterious young man who offers to help her run away, she seizes the opportunity to escape and find adventure. As Amani and Jin work together to face the dangers of the desert, Amani discovers shocking truths about herself and Jin.
I like this book because of all of the action it holds in its pages. Rebel of the Sands is very fast-paced: there is never a dull moment! I think this book would be a good choice for anyone who is a fan of action-packed fantasy, rebellion, or magic.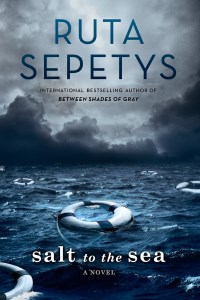 4. Salt to the Sea by Ruta Sepetys
Salt to the Sea is a historical novel focused around the greatest tragedy in maritime history, the sinking of the Wilhelm Gustloff. A German ocean liner, the Wilhelm Gustloff was taken down by a Soviet sub on January 30, 1945. This killed 9,343 people, including 5,00 children. The majority of those who died were war refugees, many people had boarded the ship hoping to escape Germany. There were also a large number of soldiers on the ship who were being transported to a different area.
Salt to the Sea tells of the weeks leading up to this tragic event and the event itself through the eyes of four teens: Joana Vilkas a young Lithuanian nurse fleeing from her country, Florian Beck a Prussian apprentice, Emilia Stożek a fifteen-year-old Polish girl from Lwów, and Alfred Frick an eager German who adheres to Adolf Hitler's propaganda. They all hope to board the Wilhelm Gustloff, a ship that will take them to safety.
I liked this book because I think it did an excellent job of retelling a historical event in an easy-to-understand way. I also like how the story is told from different people, who have different backgrounds. This allows readers to see the tragedy in different ways. You should definitely read this book if you are interested in World War Two or history in General.