Book Review: The Kite Runner
Written by Khaled Hosseini
Reviewed by Eleazar Wawa, age 18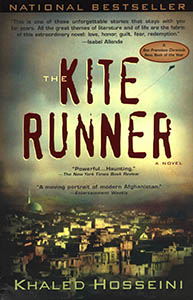 Khaled Hosseini's The Kite Runner is a poignant novel that examines turmoil in Afghanistan. It presents the story of two Afghani boys, Amir and Hassan.

Amir is the novel's narrator. As an adult, he recounts numerous events that make him who he is; most of them involve his childhood friend and family servant Hassan. Because he is part of the ethnic group Hazara, Hassan is generally belittled by the Afghani culture. The boys' friendship projects the complex cultural, political, and religious conflicts in Afghanistan.

Although Hassan is Amir's servant, the two boys spend a significant amount of time together. They especially enjoy kite-flying, a popular activity in Afghanistan. However, Amir is influenced by societal prejudices to the extent that they strain his relationship with Hassan. Amir also desperately wants the approval of Baba, his father. An outspoken, well-respected, and powerful figure, Baba represents everything Amir yearns to be. Amir is painfully aware that his father considers him a coward, and he fears that Baba favors Hassan.

Hassan's most notable trait is his humility. Though he is born into poverty, he is a gentle and dignified boy who asks for nothing. He also shares many of Baba's courageous attributes. These characteristics, coupled with his incredible loyalty to Amir, spur him to protect Amir when the latter is in trouble. Arguably the most touching example of Hassan's loyalty occurs when Amir asks him to run his kite. Hassan replies, "for you, a thousand times over." Unfortunately, Amir's cowardice and cultural prejudice toward the Hazaras prevent him from reciprocating Hassan's love and devotion. Ultimately, this leads to the novel's most tragic scene.

Hosseini structures the novel in two distinct halves. Throughout the text's first half, he presents the mistakes Amir makes in his relationship with Hassan and the guilt and shame he consequently carries for most of his life. The second half of the novel shifts in focus to Amir's life in America and on Hassan's son, Sohrab. As the adult Amir works to help Sohrab, he uncovers shocking secrets and sees how time has decimated his homeland.

While remembering different moments in his life, Amir recalls how several political events in Afghanistan affected him and the Afghani people. These include the fall of the monarchy in 1973, the Soviet invasion in 1979, and the Taliban's occupation of Kabul in 1996. Hosseini intricately intertwines fiction and history in this novel, thus making it both intellectually stimulating and emotionally taxing.

Amir's dark and heartbreaking journey explores one of the underlying themes in the novel: redemption. He gives the young, timid Sohrab the love and devotion that he was unable to give Hassan. Hosseini succeeds in presenting the horrific realities that accompany the violation and maltreatment of human beings. He also leads his readers to acknowledge that the healing process for both his characters and the people of Afghanistan will be filled with hardship and uncertainty.

I would recommend The Kite Runner to high school students. While I began reading it as obligatory school summer reading, I ultimately found it to be a stirring piece of literature that I now consider one of my favorites.