Book Review: The Egypt Game
by Zilpha Keatley Snyder
reviewed by Andreanna Wright, age 13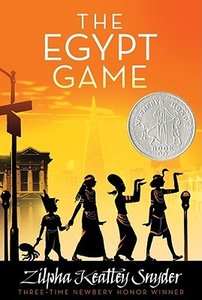 The Egypt Game by Zilpha Keatly Snyder is an exciting story of imagination and friendship. The flamboyant April has just moved in with her grandmother, and isn't very happy about leaving the excitement of Los Angeles. But when April meets Melanie, a friendly neighbor, everything changes. They notice they share a very strong interest in ancient Egypt.
Soon, April and Melanie begin the secretive and mysterious Egypt Game. They have rituals, ceremonies and their own hieroglyphic names.
The Egypt Game begins with only April and Melanie, who make believe they are Egyptians in the backyard of A-Z Antiques close to the residence of a solitary professor. Melanie's five year-old brother, Marshall and their nine year-old neighbor Elizabeth soon join them. Together they use their creativity to take the Egypt Game to new heights.
The Egypt Game becomes more involved and enjoyable. The "Egyptians" decide to wear beautiful costumes to look and feel like they're actually in ancient Egypt. But while the Egyptians are having a good time, strange things start happening in the land of Egypt.
Then, a little girl is tragically murdered in April's town. Parents fear for their kids' safety, so the Egypt Game is postponed. Most of the suspicion about who murdered the child is directed at the professor. The children of the Egypt Game and their parents have theories about this old man – until the murderer tries to grab April, and the professor comes to her rescue.
What I liked about The Egypt Game is how at the end of each chapter, the author uses suspense to encourage the reader to continue reading. Additionally, I liked the level of mystery in The Egypt Game . For example, when Marshall loses Security, his plush octopus, the Egyptians start to write notes to Set, their imaginary god, to which they don't expect any response. But the next day, a response is written to the question: Where is Security?
The Egypt Game is a great opportunity to learn a little more information  about ancient Egypt. For example, I learned about the clothing worn by Egyptians, their celebrations, and their kings and queens. I would recommend this book for 3 rd -7 th graders.