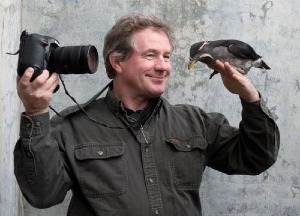 Joel Sartore, a wildlife photographer is spending 25 years taking pictures of 12,000 to 13,000 captive
Animals - before they go extinct - ensure that the public will remember them.
Sartore, a National Geographic photographer, has worked for 12 years on the project so far. He has photographed 6,500 different species and has approximately 6,000 left to go. His goal is to preserve these creatures through a collection of photographs called "The Photo Ark". With this project, he hopes that future generations can learn about the animals.
When capturing images of the animals, Sartore prepares the room with a black and white paint and with a cloth or a paper background. During the shoot he also feeds the animals so they think that they are just coming for food. Instead of taking a picture of animals in nature, Sartore prefers the studio because he thinks the focus of the image makes the animal appear more important.
In a recent interview, Mr. Sartore discussed his experience photographing animals and "The Photo Ark" project. "I will be very glad when it's done, because there's a lot of pressure," he said. He also said, "I've got to get to them, and it means I'm gone all the time, and once I get there I've got to do the world's best picture of this animal before it's lost." Sartore's project is a challenge but the results will likely be fascinating and help preserve important parts of history.
[Source: National Public Radio ]