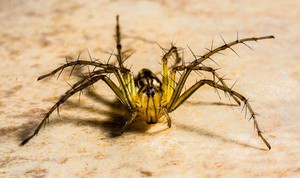 What crawls on eight legs and hunts to stay alive? Spiders, scorpions, ticks, and mites all fit this description.
Most—not all—spiders make webs. Those that do produce a liquid silk from a gland in their stomachs. These spiders have special body parts called spinnerets that pull out the silk. Then, they use their legs to turn the liquid silk into the webs in which they catch their prey.
Like spiders, scorpions are meat eaters. Active hunters like the tarantula do not use a web, as a spider does. Instead, they attack their prey by jumping on them and holding them down with their pedipalps , or feelers. Then, the tarantula uses its poisonous fangs to bite into its victims.
In contrast, scorpions use their pincers to attack their prey, hold them down, and tear them to pieces. When scorpions attack larger prey that might resist, they use their poisonous sting to kill them. Because they hunt at night, they rely on two of their senses—touch and smell—to find their prey.
Unlike scorpions and tarantulas, tiny ticks and mites use their sucking or biting mouthparts to hunt. Ticks live on animals or plants and are therefore known as parasites . While most ticks are large enough for humans to see, mites are so small that they cannot be seen with the naked eye. They often live in kitchens and feed on cereal, even though humans do not know that they are there.
All of these eight-legged creatures are known as arachnids. Next time you are freaked out by a creepy crawly, just remember—there is likely some other arachnid out there that is a whole lot scarier!
[source: e.encyclopedia ]